THE POSSIBILITIES ARE ENDLESS!
I am ready, willing, and able to make a custom piece for you!
Please fill out the required* fields below to relay your desires to me, and I'll get back to you within 24 hours.​
"
I've ordered many Mind's Eye Journals for friends and family and even commissioned a custom-designed journal for myself. Each one has been beautifully and uniquely crafted and each order arrived on time and was even more perfect than I had hoped them to be.
-Ryan Roth Gallo
"
Terms & Conditions For Custom Orders:
All custom orders require a 25% non-refundable deposit, due upon design agreement. The remaining balance will be due on or before the decided deadline date, at which time, pictures of the completed piece(s) will be emailed to you for your approval. Custom orders will ship immediately after full payment is received. Thank you!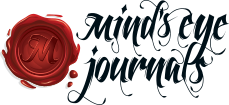 WHERE YOUR CREATIVE GENIUS SHOPS