A LITTLE STORY ABOUT MIND'S EYE JOURNALS​.
MY STORY

Hi! My name is Teresa Merriman, and I am the head, heart, and hands of Mind's Eye Journals. If you love my handmade journals, I think you'll love what I have to say about how they came to be, how they are made, and how I stay inspired.
Because Your Story Should Be Told
Teresa Merriman, artist, bookbinder, and owner of Mind's Eye Journals, talks about her inspiration and intent in her creative process.​
My first Mind's Eye journal was one of the best gifts I have ever received. it is a work of art in itself and it beckons and inspires me to make time for my art - to play - to experiment - to create.
Ryan Roth Gallo
California
I saw the booth with the journals and rushed towards it. When I finally looked up from being captivated by the books, I see this young woman with a straw cowboy hat on and a huge smile. I knew I was looking at a kindred spirit.
The journals I've bought over the years are a true work of art themselves. Teresa is not only a master craftsman but also a genuine person who puts her life into her work. I hope to pass these journals on to my kids and grandkids in the future.​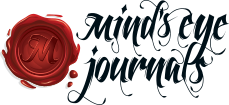 WHERE YOUR CREATIVE GENIUS SHOPS