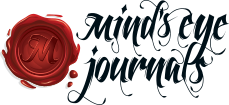 WHERE YOUR CREATIVE GENIUS SHOPS
​There are many ways to prepare eggs, as I've so lovingly illustrated in my art journal (pictured above). But the least common way is poached eggs. Who ever raved about poached eggs? No one. Ever. Nonetheless, I have found and tweaked a recipe containing the ever-so-delicate poached egg, and I've come to find that it is absolutely delicious and deserving of such a status as a Christmas Brunch meal. This will be the 5th annual of my newly famous "Green Eggs & Salmon Benedict."
One of the two secrets to making poached eggs is to put a shot-glass of white wine vinegar in the pot of water to be boiled. A dash of salt or two helps as well, although this step is mostly to make you look like you know what you're doing. Try to be ceremonious during this step and do it with Tinker Bell glee, and your eggs will come out better, I swear!
Even Alton Brown agrees with me! And I like the way he explains poaching eggs, so I've copied his instructions:
1. Heat the water:
Add enough water to come 1 inch up the side of a narrow, deep 2-quart saucier. Add 1 teaspoon kosher salt and 2 teaspoons white vinegar and bring to a simmer over medium heat. Meanwhile, crack 1 very fresh cold large egg into a custard cup or small ramekin. Use the handle of a spatula or spoon to quickly stir the water in one direction until it's all smoothly spinning around.
TIP: Use this whirlpool method when poaching a single serving (one or two eggs). For bigger batches, heat the water, salt and vinegar in a 12-inch nonstick skillet and do not stir.
2. Add the egg:
Carefully drop the egg into the center of the whirlpool. The swirling water will help prevent the white from "feathering," or spreading out in the pan.
3. Let it poach:
Turn off the heat, cover the pan and set your timer for 5 minutes. Don't peek, poke, stir or accost the egg in any way.
4. Lift it out:
Remove the egg with a slotted spoon and serve immediately.
But what about the "Green" and the "Salmon" and the "Benedict," you ask?
I'll tell ya...
While your pot is coming to a steady simmer, preheat your oven to 350 degrees and slice your uncooked salmon to 2" x 3" thin rectangles. I'm always serving just the two of us, so I slice about 8 thin rectangles. Put a little olive oil on the bottom of a cooking sheet and place the salmon on top—slide it in the oven for about the same time it takes to peel and core 2 halved avocados and grab that handy packet of Hollandaise sauce mix and stir in up in a sauce pan…put it on medium heat. Make sure you monitor this deliciousness while you do the next few steps…
NOW it's time to poach your eggs…your water should be nice and ready! During the 5 minutes of the poaching process, get your plates ready! Take the salmon out of the oven and let the meat rest while placing the two halves of each avocado on each plate, core side down flat, dome side up. Sprinkle a little bit of salt on them, squeeze a little bit of real lemon juice on them (not lime), and then place the salmon pieces over top of them (usually 2 per half-avocado). Once your eggs are poached, immediately put them on top of your avocado-salmon stacks! Pour your sauce over top and make it look pretty!
My signature finishing touch is two little teeny-tiny criss-crossing saffron threads right on the top and right in the middle! As you know, saffron is a very strong spice, and you could ruin the whole meal if you put too much on top! Two threads. Criss-cross. "X" marks the spot…done!
If you're feeling adventurous, try this for yourself! If not for Christmas, then try it some other time—it's slightly gourmet, mostly healthy, and entirely delicious!
Merry Christmas!