SUBMIT YOUR PAGE AND JOIN THE #MEJNATION!​
SHARE YOUR WORK AND SUBMIT YOUR FAVORITE JOURNAL PAGES

I won't judge unless you ask! I love seeing your work and I bet the world would love to see it too! If you'd like to add to this wonderful gallery of journal pages, submit a pic here or share it on social media with the hashtag #mejnation.
SHARE WITH ME ON INSTAGRAM
If you are up to it, you can also post your journal pages on Instagram and add the tag #MEJnation, and I will be sure to see it! Thanks so much for sharing and feel free to follow me @MindsEyeJournals.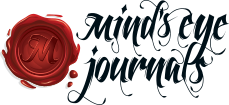 WHERE YOUR CREATIVE GENIUS SHOPS