"
I go out, do some shows,
come back, make more books, and have that track on
repeat, save the occasional international vacation​
"
THE PERSONAL
Hi! My name is Teresa Merriman, and I am the head, heart, and hands of Mind's Eye Journals. In the valley between the Sangre de Cristo Mountains and the Wet Mountains, my studio is nestled on 35 acres of land 9,000 feet in elevation and 12 miles south of beautiful Westcliffe, Colorado, population 586.
In 2010, my husband, Mike, and I purchased our land, and over the last 8 years, we have been building our dream home. And by we, I mean HE and I, with our own hands, built our place. Ok, well, we had a little help, digging the well, pouring the foundation, erecting the timber frame and a few helping hands from our neighbors to install our windows…but everything else was done by us. And by us, I mean mostly my husband while I went around the country doing arts festivals so we could continue to fund our dream project!
Once the house was finished, we couldn't quite get rid of the builder's bug, so we constructed a barn, which is going to be my husband's knife-making studio, and then a Quonset Hut, which is a photo studio and a garden shed, aaaaaand as well, we're currently building another structure that is to be a NEW studio for ME! We cannot believe that I have already outgrown the original studio inside the big house, but it's true! This is not a problem, as we still have that bug, and we are going to finish my new place by Spring 2018. That makes 4 buildings on our property…and a half-acre garden. What?!
Mike and I are parents to 4 wonderful dogs and 1 exotic chameleon. Our three blue-heelers are Billie, Bobbie, and Baxter, who roam our land and scatter the antelope and rabbits away from our plants. Our chihuahua, Thunder, is completely useless on this ranch, but he serves a vital role as "shop dog" and is always there when you need a cuddle or a reminder of what's important in this life. My veiled chameleon, Donnie, is a tree-climbing, sun-worshiping, cricket-eater, and he doesn't mind showing me his acrobatics or his ability to disappear. Perhaps one day, we may have Al Pacas, cows, chickens, goats, and horses, but we'll see.
So, when I'm home, I'm enjoying my family and my views, I'm staying busy with my process of bookbinding, and I'm keeping my suitcase always packed and ready for my next tour of art shows. I go out, do some shows, come back, make more books, and have that track on repeat, save the occasional international vacation!
From the bottom of my heart, thank you for your interest in my work. Since 2005, I've been making these leather journals, and all the support I've been given since and to-date has allowed me to explore areas of myself as an artist, my life as an adventure, and a host of different worlds around me that I've come to love and appreciate for all their beauties. All this, and in more ways than I ever could have imagined! To keep up with current events, including construction updates, studio stories, art-show adventures, and international travels, please subscribe to MY BLOG.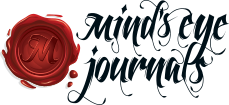 WHERE YOUR CREATIVE GENIUS SHOPS