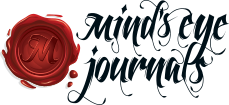 WHERE YOUR CREATIVE GENIUS SHOPS
"And now let us welcome the New Year, full of things that never were!"
—Rainer Maria Rilke
It's the New Year, and it's time for new beginnings! Be sure to do an entry in your journal to remember the onset of this new adventure of 2018.
There are infinite ways to fill your pages in your journal, but outside of writing, my favorite ways involve a plethora of art supplies. Over the years, I have accumulated quite a collection of art supplies as well as developed an acumen of the various ways to use these different materials specifically for an art journal.
I went through all my TIDBITS on my YouTube channel and found 3 interesting entries for your review, each will a different skill level: beginner, intermediate, and advanced. Let one or all of these inspire you to not only maintain your journaling habits, but to have a lot of fun doing it as well!
Happy
New
Year!
​
FOR BEGINNERS:
FOR INTERMEDIATES:
FOR ADVANCED: