Handmade Leather-Bound Journals for a Myriad of Practical & Pleasurable Uses​
HANDMADE JOURNALS
Capture the memories of your adventures; Inspiration lives in the journey.​

Travel journaling, reflection writing, art journaling, photo albums, prayer, dreams, goals, poetry, and memories...let the adventure be the guide and the journal, your companion.

For Community Fun + Tips & Tricks + Special Offers​



Share Your Favorite Journal Entries With The Tribe. #MEJnation​
Stefanie's journal submission:
Looking for journaling tips, travel tips, and art journaling ideas?
You came to the right place.​
I understand the need, the need to travel, to journey onward and feed your soul, and the importance of capturing the memory...
@MINDSEYEJOURNALS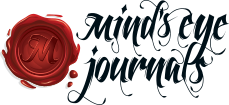 WHERE YOUR CREATIVE GENIUS SHOPS